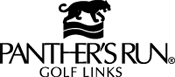 In Panther's Run, Architect Tim Cate created a spectacular layout that winds through a massive and pristine nature preserve. Featuring generous landing areas and immaculately manicured TifEagle Bermudagrass greens installed in 2018, Panther's Run blends modern course architecture and a breathtaking natural setting into a seamless fusion of design and nature, creating a truly new breed of golf course.
Panther's Run has earned 3 1/2 stars from Golf Digest's prestigious "Places to Play" rankings.
Panther's Run was included in Golf Digest's esteemed list of the "Top 50 in Myrtle Beach".
The Lion's Paw & Panther's Run Clubhouse was named one of "America's 100 Best Golf Shops" by Golf Shop Operations magazine.
Panther's Run Course Map & Yardage
Panther's Run was designed by Tim Cate, who worked with Willard Byrd and his organization for seven years (including Lion's Paw) before the Panther's Run project.
The 18-hole layout features rolling, wooded land with rambling brooks and ponds. Water plays throughout the course, testing the golfer's ability to stay out of or hit over water.
Panther's Run features large, multiple tee areas giving golfers of all skill levels a fair shot at making par. For the ladies, the course offers two tees, a rare option at other courses.
Panther's Run measures 7,089 yards from the back tees.